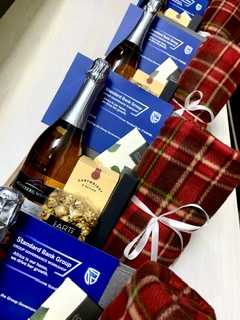 Virtual Event Gift Boxes For Stanbic IBTC Bank by The Lekki Gift Company
With everything that is currently going on around the world with the COVID Pandemic, events that would have otherwise been attended physically are being turned to virtual ones. And Businesses are having to adapt their methods to fit current realities and also still pass across their message to customers and attendees of events.
We were approached to curate gift boxes for one of such events that had turned virtual and the client wanted to pass across a message of positivity and warmness to the recipients.
We were given a list to work with in curating the items and we started off with this list in mind. The gift boxes were to be received on the day the event would commence and so it had to be a smile bringer.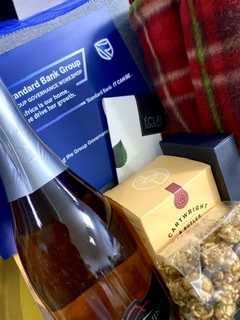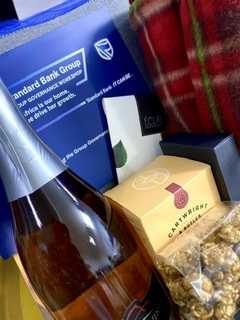 Since this was a virtual event, the client wanted us to include items that the attendees could actually use during the online sessions and so we incorporated a large writing memo pad and a pen. Also in line with the client's requests we included a fluffy blanket to keep the recipients cosy while working. 
Also included in the gift box was a bottle of non-alchoholic wine, chocolate, cookies and popcorn to ensure they could indulge after the event.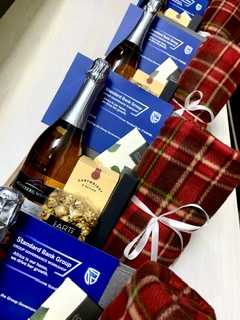 We finished the gifts with a branded notecard with a message to each attendee, gift tags and wrapped the boxes with blue themed mesh in keeping with the Bank's branding.  The gifts were delivered to each recipient's address and arrived on the day the event commenced, not only to get them excited about the event but also to let them feel warm and valued.
The Client loved the gift design and the gift boxes were delivered in time and received warmly by all the recipients.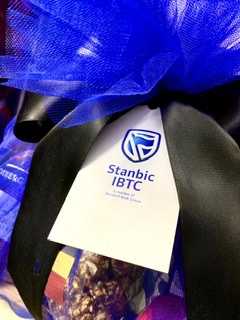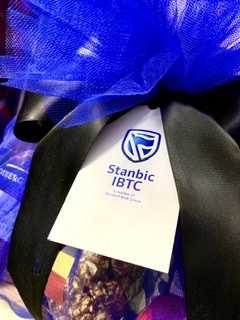 Are you thinking of corporate gifting your clients or attendees of your upcoming event? If yes, please visit here, to learn more about our Corporate Gift Curation Service and send us a message. We would love to take the stress off you and help you gift well.