Treatful – For Her
Because treats are always welcome…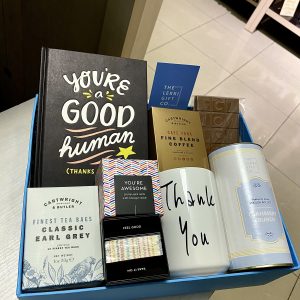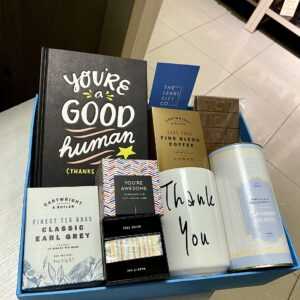 For Her, For Him
Specially curated to show gratitude, Our
Thank You.
gift box inspires a feeling of warmth and appreciation. With a themed notebook, a pack of awesome cards and treats, this gift box is the perfect gift to give to show appreciation and give thanks. INCLUDES:
A Themed Notebook
A Pack of Coffee
A Bar of Chocolate
A Pack of Tea
A Pack of Pop Up Cards
A Thank You Mug
A Tube of Biscuits
DETAILS: The Gift will be packed in our hard paper gift box. Each hand-wrapped box ships as a gift, with a handwritten note and no pricing information. SHIPPING: Orders shipping within Lagos will be delivered same day if placed before 12pm and next day if placed after 12pm. Orders shipping outside Lagos will be delivered within 2 days. Once your order is processed you will receive an email with progress updates. Whether you want to hand deliver your gifts or ship around the country, you can add separate notes and addresses at checkout.
₦

41,500.00