Positive Vibes – For Him
Because positive vibes is the only kind of vibe allowed!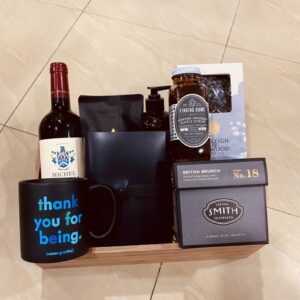 For Him, Gentleman's Collection
What is life if not lived well?.....
Specially curated to pique the interest of a knowledgeable gentleman, Our Savy Gentleman gift box is sure to please. With a leather bound notebook with an attached usb, a body wash, a luxurious diffuser and themed mug, this gift box is the perfect gift for that gentleman who appreciates the art of fine living. INCLUDES:
A Bottle Of Red Wine
A Pack of Coffee
A Coffee Infused Maple Syrup
A Body Wash
A Fragranced Diffuser
A Themed Mug
A Leather Notebook & Attached Usb
A Pack of Tea
DETAILS: The Gift will be packed in our specially created open top wooden gift box. Each hand-wrapped box ships as a gift, with a handwritten note and no pricing information. SHIPPING: Orders shipping within Lagos will be delivered same day if placed before 12pm and next day if placed after 12pm. Orders shipping outside Lagos will be delivered within 2 days. Once your order is processed you will receive an email with progress updates. Whether you want to hand deliver your gifts or ship around the country, you can add separate notes and addresses at checkout.
₦

153,500.00