Positive Vibes Only – For Her
Because positive vibes is the only kind of vibe allowed!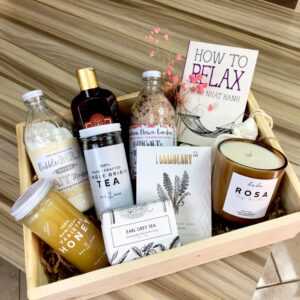 Care, For Her
Because She Deserves To Be Pampered...
Specially curated to be a nurturing gesture for someone deserving of some time out, our
Pamper Deluxe 
gift box is packed with luxurious products to make her feel cared for and special.
With an indulgent bath milk, matching bath salt, shower gel, soothing foot soak, luxurious candle, exquisite tea and matching honey, this gift box is the perfect gift to give for birthdays, anniversaries and all celebrations.
INCLUDES: 
Bath Milk
Bloom Flower Garden Bath Salt
Varietal Tube Of Honey
Handcrafted Tube Of Tea
Euculyptus & Peppermint Foot Soak
Spicy Vanilla Fragranced Shower Gel
Bar Of Earl Grey Tea Shea Butter Soap
Rosa Soy Candle
How To Relax Book
DETAILS: The Gift will be packed in our signature open top wooden gift box. Each hand-wrapped box ships as a gift, with a handwritten note and no pricing information.
SHIPPING: Orders shipping within Lagos will be delivered same day if placed before 12pm and next day if placed after 12pm. Orders shipping outside Lagos will be delivered within 2 days. Once your order is processed you will receive an email with progress updates. Whether you want to hand deliver your gifts or ship around the country, you can add separate notes and addresses at checkout.
₦

125,000.00