Pamper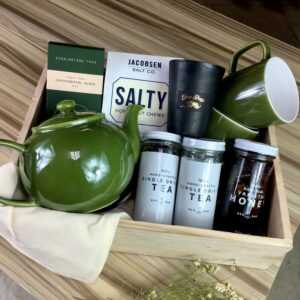 Quickview
For Her, For Him, Treats
If you are cold, tea will warm you; if you are too heated, it will cool you; If you are depressed, it will cheer you; If you are excited, it will calm you. William Ewart Gladstone
Specially curated to indulge the tastes of a great tea lover, Our Tea Connoisseur gift box has everything needed for a luxurious and indulgent brew.
With options of luxurious teas, a fine tea pot & mug set, indulgent caramel sweets and a soothing tea infused candle, this gift box is the perfect gift for that person who appreciates a luxurious tea brew.
INCLUDES:
Tea Pot & 2 Mugs Set
Experimental Black Tea
Sales Honeynut Chews Caramel Sweets
Tea Fragranced Candle
Tube of Handcrafted Assam Black Tea
Tube of Peppermint Tea
Tube of Wild Raspberry Honey
DETAILS: The Gift will be packed in our signature open top wooden gift box. Each hand-wrapped box ships as a gift, with a handwritten note and no pricing information.
SHIPPING: Orders shipping within Lagos will be delivered same day if placed before 12pm and next day if placed after 12pm. Orders shipping outside Lagos will be delivered within 2 days. Once your order is processed you will receive an email with progress updates. Whether you want to hand deliver your gifts or ship around the country, you can add separate notes and addresses at checkout.
₦

70,500.00